Test Explosion Stack
SKU: Test Explosion Stack
Supports increased muscle strength, size, and performance
Works to increase both testosterone output and utilization
Aids in workout recovery, joint health, and growth of muscle tissue
Naturally enhance output of testosterone while lowering estrogen levels
Increased muscle mass, endurance, strength, energy, and vitality
Better pump, improved blood flow, and stronger muscles
Promotes muscle gains and naturally boosts hormone levels
Increases protein synthesis, nutrient absorption, and nitrogen retention
Helps to reduce stress and improve carbohydrate metabolism
Cancel or Pause Your Subscription Anytime
90 Day Money Back Guarantee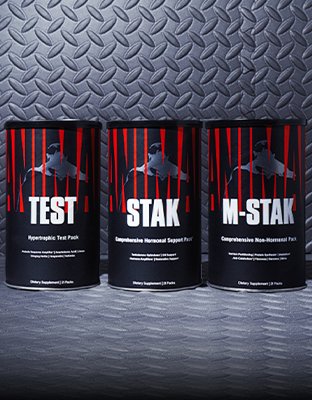 The Stack to Increase Strength and Muscle Mass Fast
Our Most Potent and Anabolic (Muscle-Building) Stack

Anabolic compounds designed to amplify natural testosterone levels with tribulus, fenugreek, and an amino acid blend to help prevent protein breakdown and muscle loss, plus estrogen lowering abilities

Super Simple 6-Week Muscle Building Cycle

Start out with once-per-day Stak and Test for 3 weeks, switch to a daily pack of M-Stak for the next 3 weeks, then repeat the cycle to maximize your gains and see big results from your training regimen

Advanced Formulas with Ingredients that Work

The combination of Stak, Test, and M-Stak, when used as directed and in combination with an appropriate muscle-building weightlifting routine, delivers scientifically studied ingredients that are known to produce results
Frequently asked questions
Can I take Animal Test as a drug tested athlete?

Yes, Animal Test will promote naturally producing testosterone in the body and is considered an "over the counter" supplement.
How long can I take this stack?

You should take Animal Test and Animal Stak together on a 3-week cycle. Once completed, begin taking Animal M-Stak on its own for an additional 3 weeks.
Can I take the Test Explosion Stack as a female athlete?

Technically, yes, but keep in mind this is primarily a hormone-boosting stack designed for men.
Follow us on instagram
#BuiltNotBorn
Made in the USA
Good manufacturing practice
UL Certified
Ironclad quality & guarantee
Made in the USA
Good manufacturing practice
UL Certified
Ironclad quality & guarantee