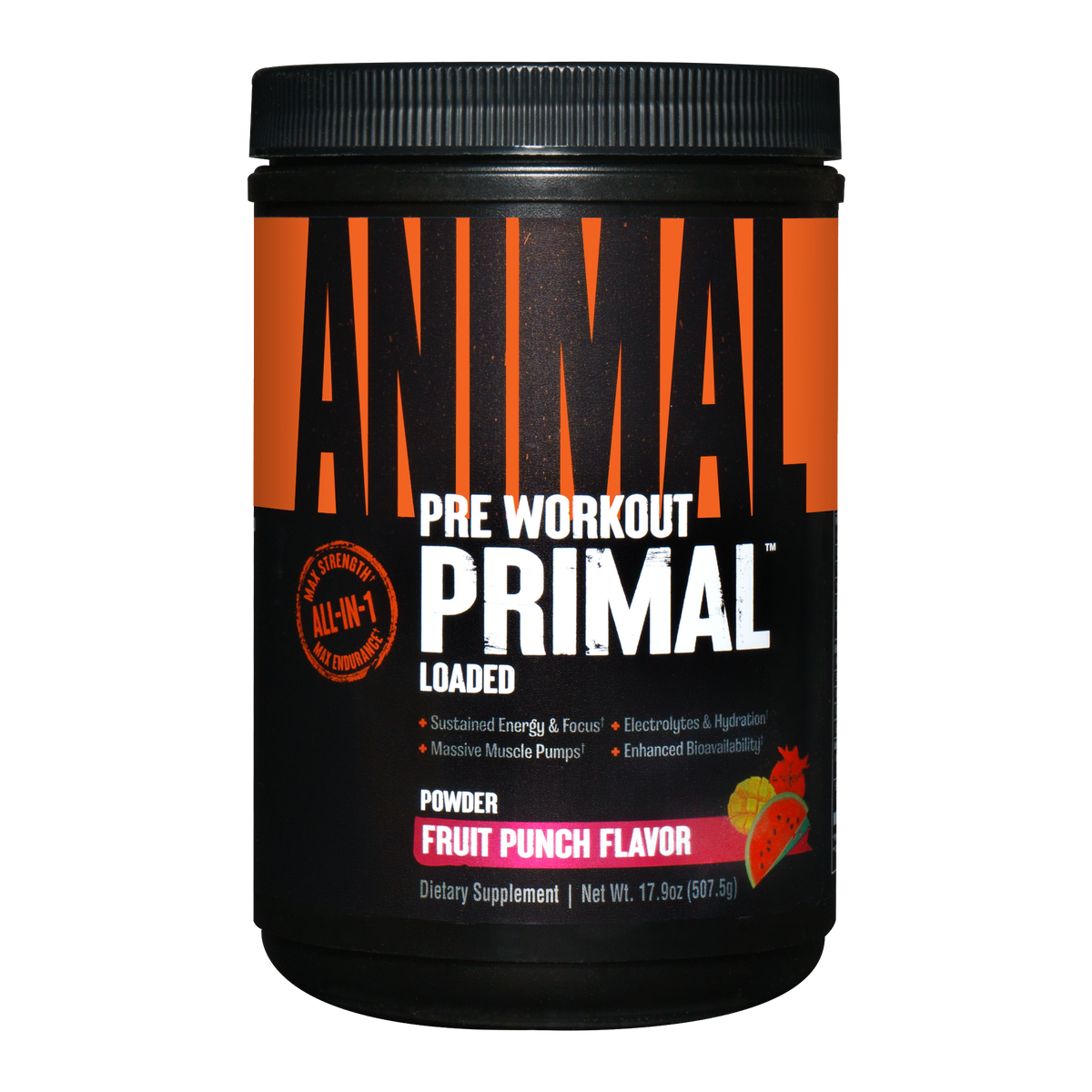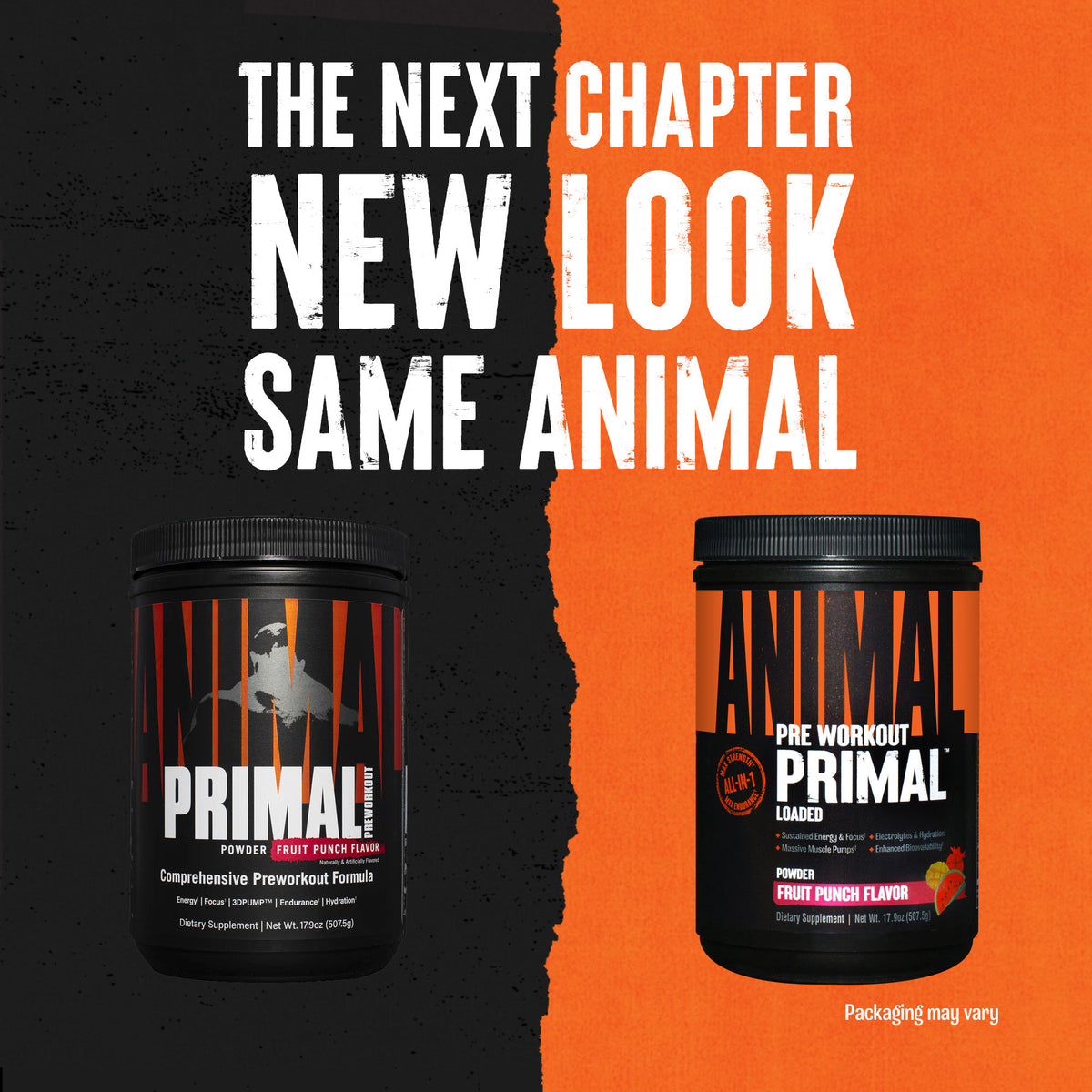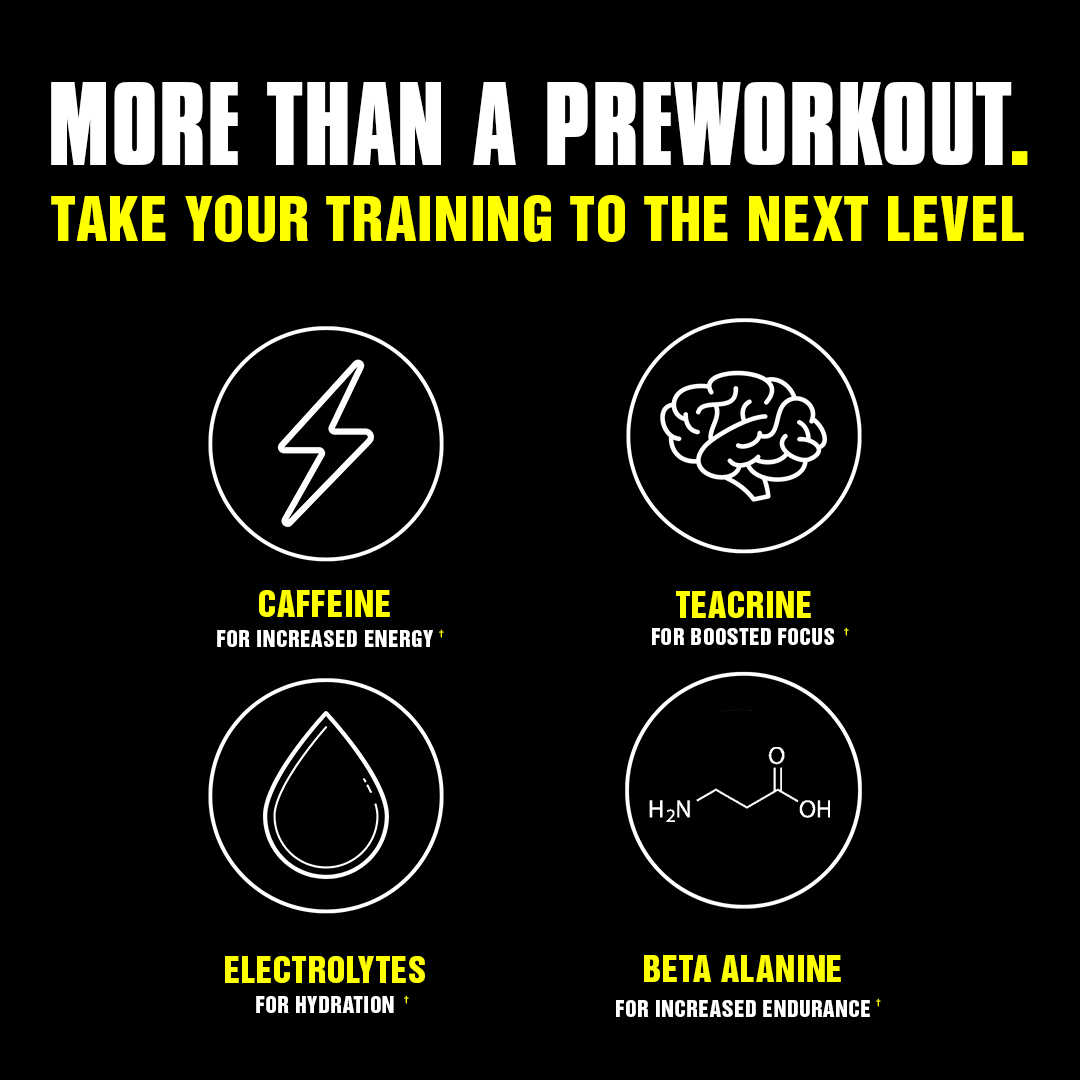 watch video
Primal Preworkout
Comprehensive Pre-workout Powder
Description
More than just a pre-workout, Primal Preworkout improves energy, focus, pump, and endurance during training, no matter how intense, while promoting muscle hydration, heart health, and workout recovery. Primal Preworkout powers workout...
Read More
Explosive Energy, Mental Focus, Muscle Pump, and Stamina
Patented Ingredients for Intense Workouts–Train Longer and Harder
Great Taste, Easy to Mix, and Two Delicious Fruit Flavors
description
nutrition facts
shipping & returns
how to use
Guarantee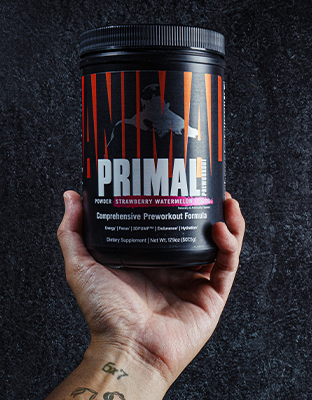 INNOVATIVE SCIENCE-BACKED PRE-WORKOUT FORMULA
Patented 3DPUMP Breakthrough®
Push harder and longer than you thought possible with more pump, focus and intensity
Patented Teacrine ®
Boost energy, focus, stamina, and motivation without the jitters or post workout crash
Beta Alanine Amino Acid
Improve performance and finish that last rep and go that extra mile without the urge to quit
Hydration and Electrolyte Complex
Stay hydrated while absorbing nutrient s normally lost during training sessions
Frequently asked questions
What stacks best with Animal Primal Preworkout?

Animal Primal Preworkout can be stacked with certain other Animal products. We recommend you avoid consuming Primal alongside products that contain stimulants, unless the product is in pill form and you can remove the pill containing all of the stimulants.
How much caffeine is in Animal Primal Preworkout?

Animal Primal Preworkout contains 300mg caffeine per serving.
Are there any banned substances in Animal Primal Preworkout? Is it WADA compliant?

Considering the vast number of competitions that are held, many with different substance lists, it would be difficult to narrow down which ingredients in our products comply with your competition. Our product ingredients are legal under U.S. law. To keep things simple, we ask that you cross-reference our products' ingredients listed on our website, Animalpak.com, to the list of your competition. The safest way to ensure your compliance is to contact your sanctioning authority (whoever is hosting the event and conducting the drug testing) and provide them with the label ingredients. Unfortunately, with lists constantly changing, we cannot answer this question definitively, but we can guarantee that the contents of our products stay consistent. If you bought a product from us that you cannot use because of your competition, we will back it up with our IronClad Guarantee.
What's the difference between Animal Fury and your new Animal Primal?

Great question. When it's comes to pre-workouts, Animal Fury is simplicity defined. There's something to be said for a simple, streamlined pre-workout formula like Fury. BCAAs, Beta Alanine, Tyrosine, Citrulline and Caffeine. All in solid dosages. Straight and to the point. If you like your pre-workout to be simple but efficacious, Fury does the job. But at Animal, we realize when it comes to pre-workouts, each one of us has a different preference, and it's important to have options. So if you're looking for Animal's most comprehensive pre-workout, enter Animal Primal. Scientifically designed for the advanced hard-trainer, Primal is our most well-rounded pre-workout formula that allows you to crush any training session. Our comprehensive, 20+ ingredient formula is jam-packed with efficacious dosages of key ingredients to give you endurance & performance, focus & intensity, pumps, quick & sustained energy and hydration, all rounded out by absorption and nutrient enhancers. No matter your pre-workout preference, with Animal, we've got you covered with our options.
When and how should I take Animal Primal Preworkout?

Mix 2 rounded scoop of Animal Primal Preworkout in 10-12 oz of your beverage of choice 30 min before the workout. Due to the extreme potency of Animal Primal Preworkout, it would be advised to start with 1 rounded scoop and work up to 2 rounded scoops. Do not consume more than one serving within 24-hour period or within 6-8 hours of bedtime.
Can I take more than the recommended dosage?

No. Due to the extreme potency of Animal Primal Preworkout, we do not recommend consuming more than one serving within 24-hour period or within 6-8 hours of bedtime.
IRONCLAD QUALITY & GUARANTEE. ANIMAL IS DEDICATED TO BEING THE VERY BEST.
Made from premium ingredients sourced from around the world, our products are rigorously tested to meet the highest standards of quality.

That's why we stand behind every single pill, every powder, and every single Animal "pack" we make. If you bought a product directly from our website and it hasn't met your tough requirements for any reason, we offer a "no-questions-asked" 90-day 100% guarantee.
Made in the USA
Good manufacturing practice
UL Certified
Ironclad quality & guarantee
Made in the USA
Good manufacturing practice
UL Certified
Ironclad quality & guarantee