Animal Omega
SKU: U3058
Animal Omega is a full spectrum, comprehensive essential fatty acid supplement, packed with 10 different sources of omegas, that supports cardiovascular and joint health, boosts immunity, and enhances metabolism. 
description
nutrition facts
FAQs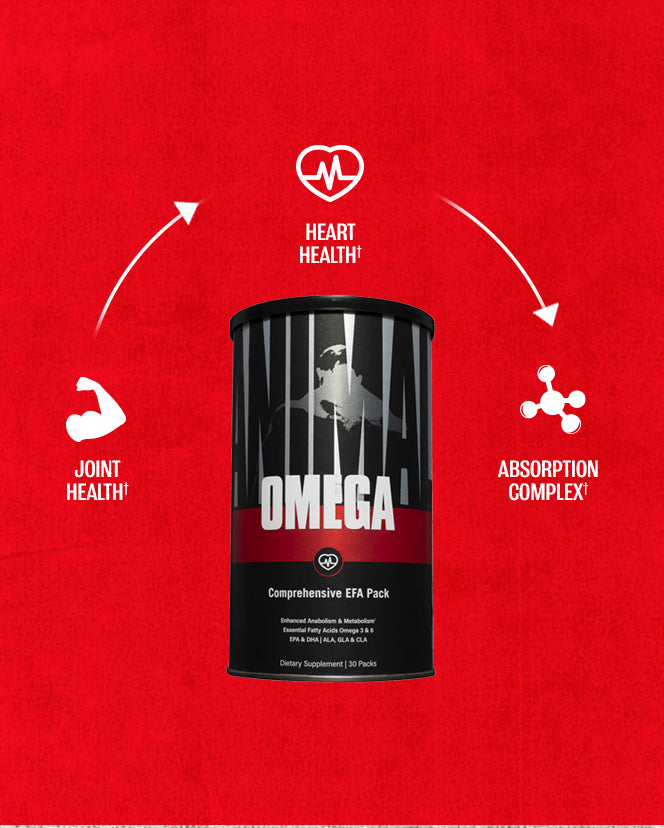 Full Spectrum Comprehensive Essential Fatty Acid Supplement
10 Different Sources of Omega 3's and 6's

Salmon, cod liver, herring, anchovy, mackerel, sardine, flax, safflower, and other oils

3 Scientifically Formulated Omega Complexes

Omega n-3 FA, Omega n-6 FA plus an omega absorption complex with lecithin, L-carnitine and lipase enzyme

Provides a Broad Array of Health Benefits

Heart and joint support, boosted immunity, enhanced metabolism and hormone output, less inflammation, and body fat loss

Perfect Grab-and-Go Essential Fatty Acid Supplement

Get your daily essential fatty acids in convenient single-serving packs
Frequently asked questions
What makes Animal Omega unique?

Animal Omega relies on a comprehensive source of 11 essential fats, including both fish and vegetable sources: salmon, cod, herring, anchovy, mackerel, sardine, flax, borage, safflower, evening primrose, and sesame.
How many pills are there in Animal Omega?

Animal Omega contains 7 softgels and 1 capsule. They are all moderately sized and specially coated.
Follow us on instagram
#BuiltNotBorn
Made in the USA
Good manufacturing practice
UL Certified
Ironclad quality & guarantee
Made in the USA
Good manufacturing practice
UL Certified
Ironclad quality & guarantee