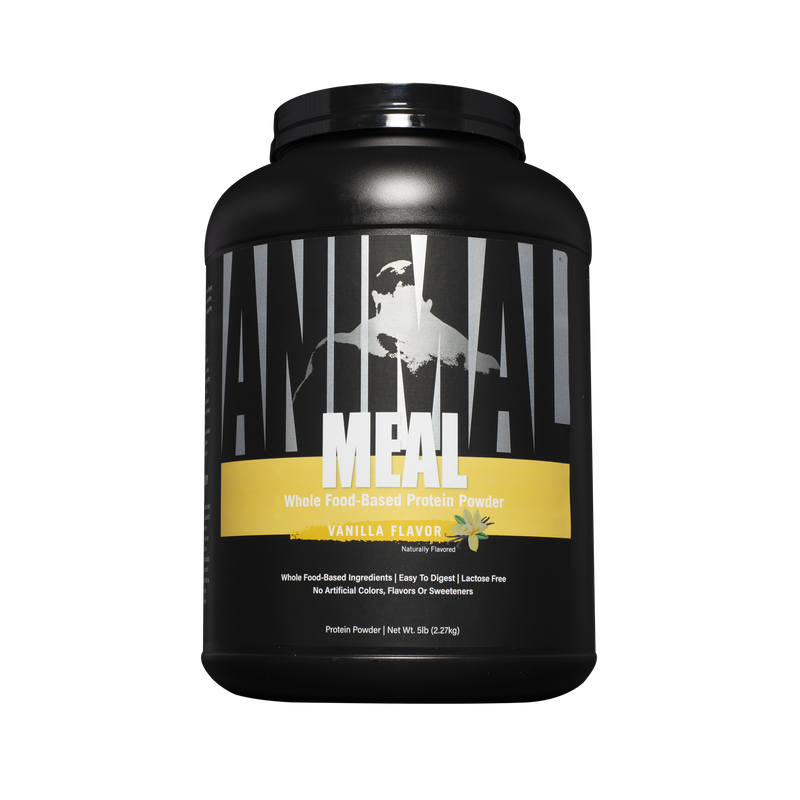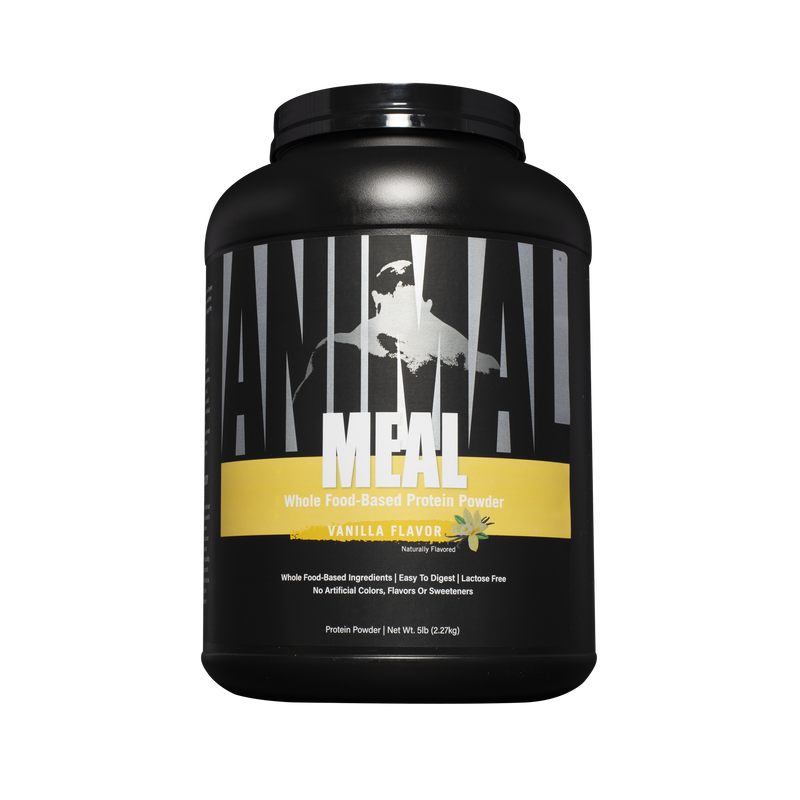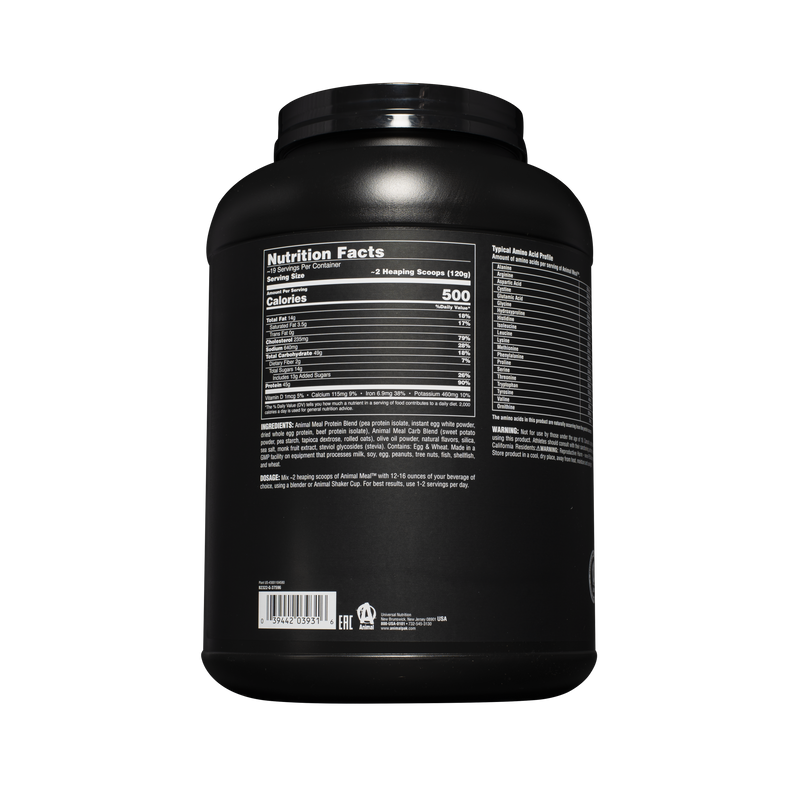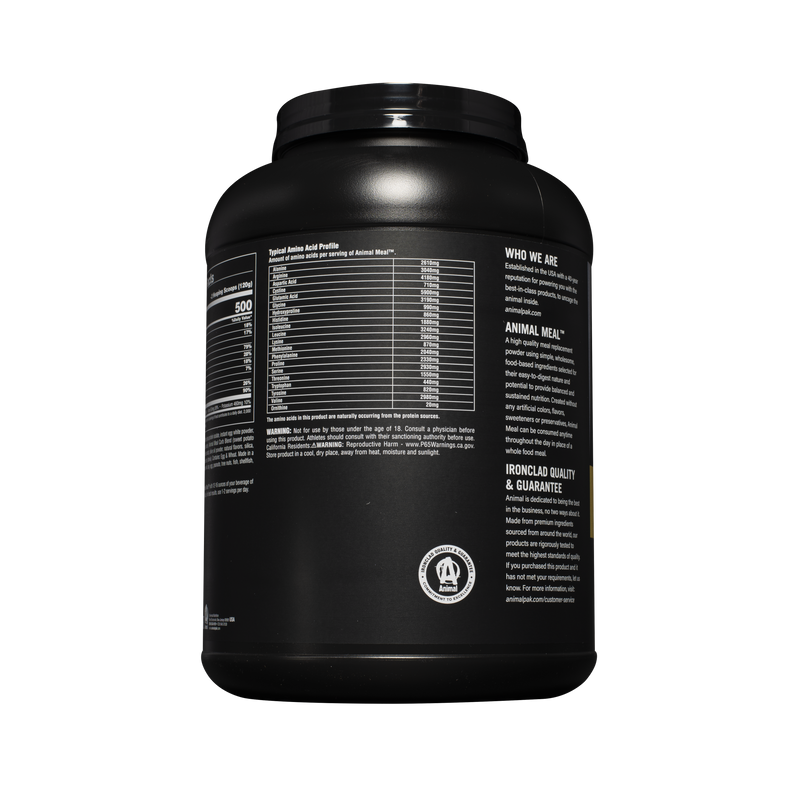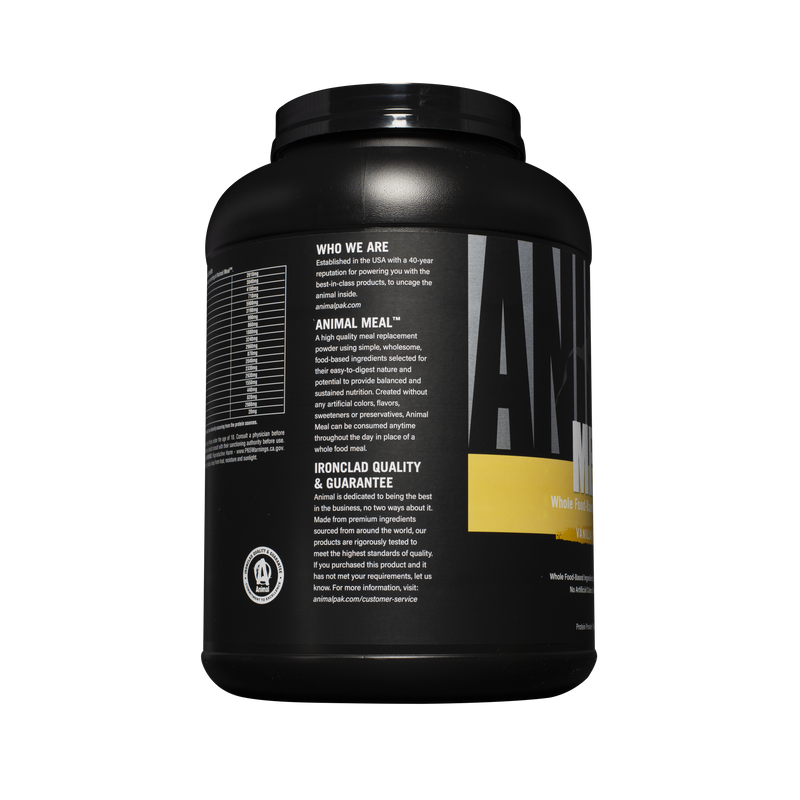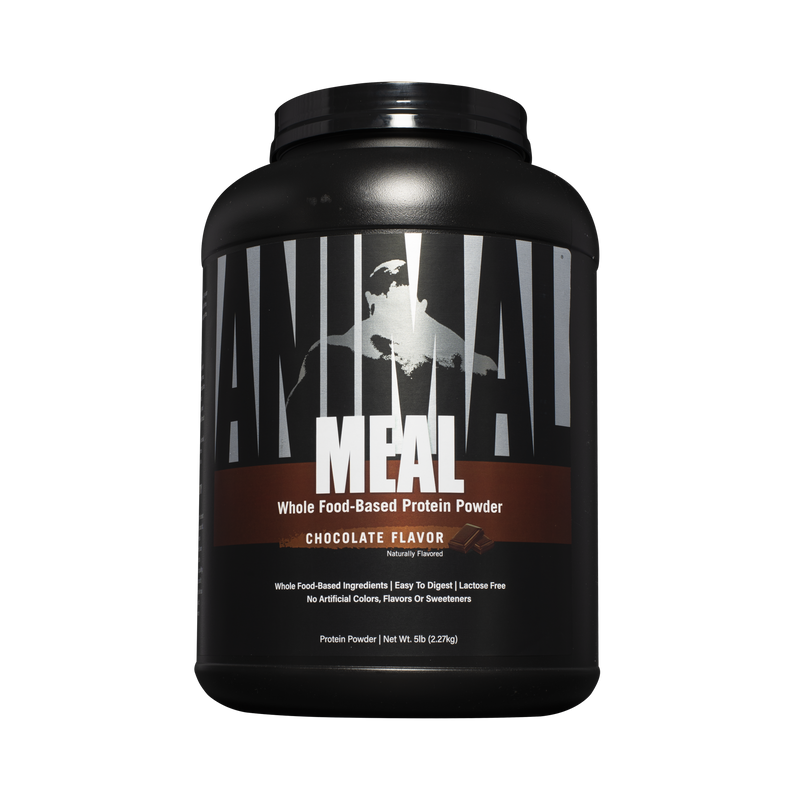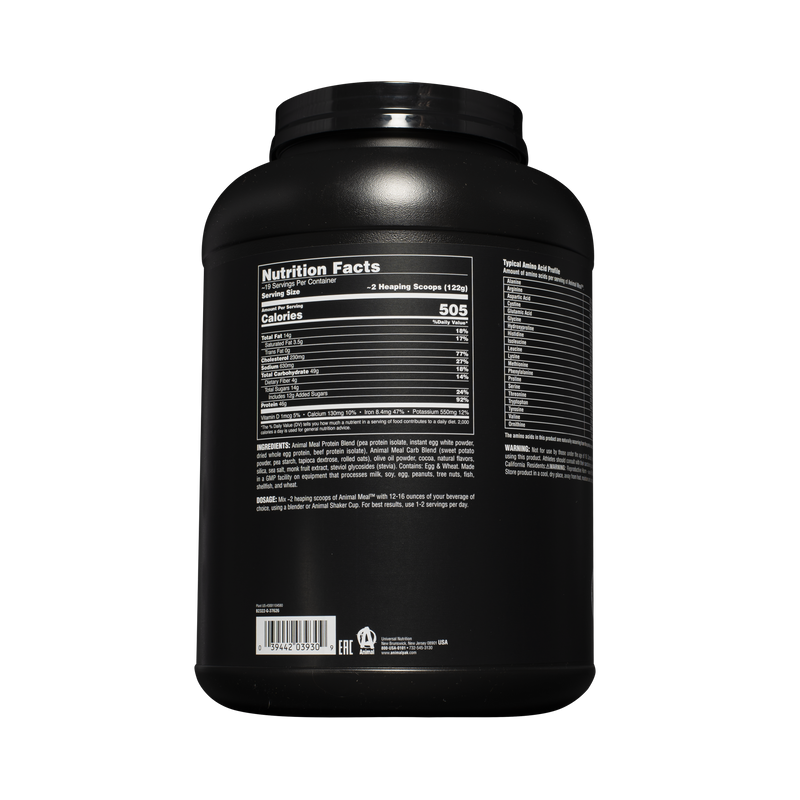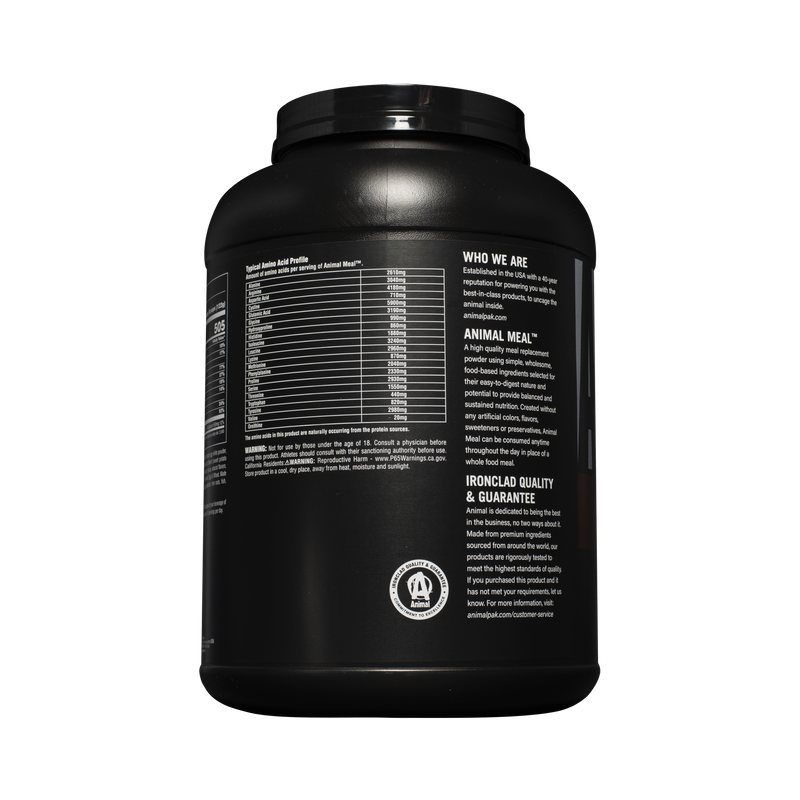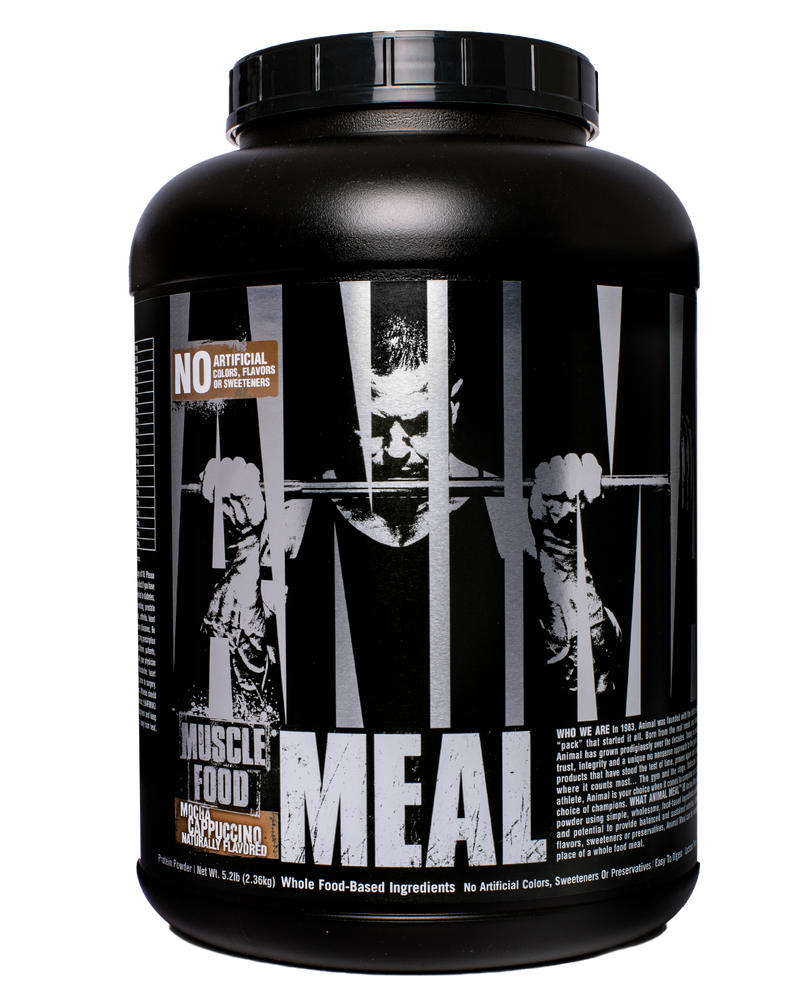 watch video
Animal Meal
SKU: U3930
Free of artificial colors, flavors, sweeteners, and preservatives, Animal Meal is a simple, natural, and whole foods meal replacement powder ideal for elite athletes or anyone seeking clean, balanced, and easy-to-digest nutrition. 
description
nutrition facts
FAQs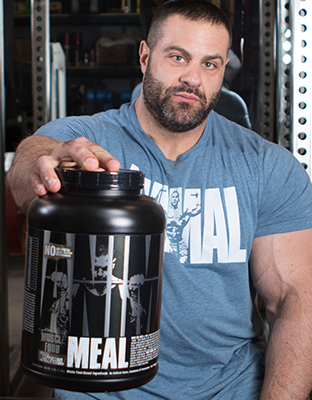 Whole Food Meal Replacement Designed by IFBB Pro Evan Centopani
46g of Protein Per Serving

Made with a blend of pea protein isolate, beef protein isolate, and egg whites

Perfect Ratio of Macronutrients

Packed with balanced macros of vital proteins, fats and carbs

Clean and Easy to Digest

No artificial flavors, colors, sweeteners, preservatives, easy to digest and optimal absorption

Healthy, Delicious, and Balanced

Choose from all-natural chocolate and vanilla flavors
Frequently asked questions
What type of protein is in Animal Meal?

Animal Meal was formulated using an optimal blend of beef isolate, whole eggs, egg whites, and pea protein to create a nutritionally advantageous amino acid profile.
Can Animal Meal also be used for bulking as a weight gainer?

Think of Animal Meal in the same way you think about food. If gaining weight is your goal, then it is vital to include more quality calories in your diet. Animal Meal will serve that purpose. Animal Meal can be consumed at any time of the day as an additional meal or to replace a meal of your choosing.
I'm allergic to milk – does Animal Meal contain any dairy?

Animal Meal is 100% free of dairy and lactose. Animal Meal was purposefully designed to omit dairy completely in order to optimize healthy digestion.
Did you change the taste of Animal Meal?

Due to the natural ingredient sources in Animal Meal, the taste may vary slightly from batch to batch.
How is Animal Meal different from other conventional meal replacements?

Unlike competitor meal replacement powders that contain artificial ingredients and cheap carbohydrate sources, Animal Meal is an all-natural and great-tasting meal replacement powder that contains only the highest quality ingredients made from whole foods. Your body will be able to assimilate it efficiently thanks to its supreme digestibility. Animal Meal has balanced macronutrients and does not contain dairy. There should be little to no bloating, flatulence, or indigestion which is often found as a result of consuming inferior products.
Follow us on instagram
#BuiltNotBorn
Made in the USA
Good manufacturing practice
UL Certified
Ironclad quality & guarantee
Made in the USA
Good manufacturing practice
UL Certified
Ironclad quality & guarantee