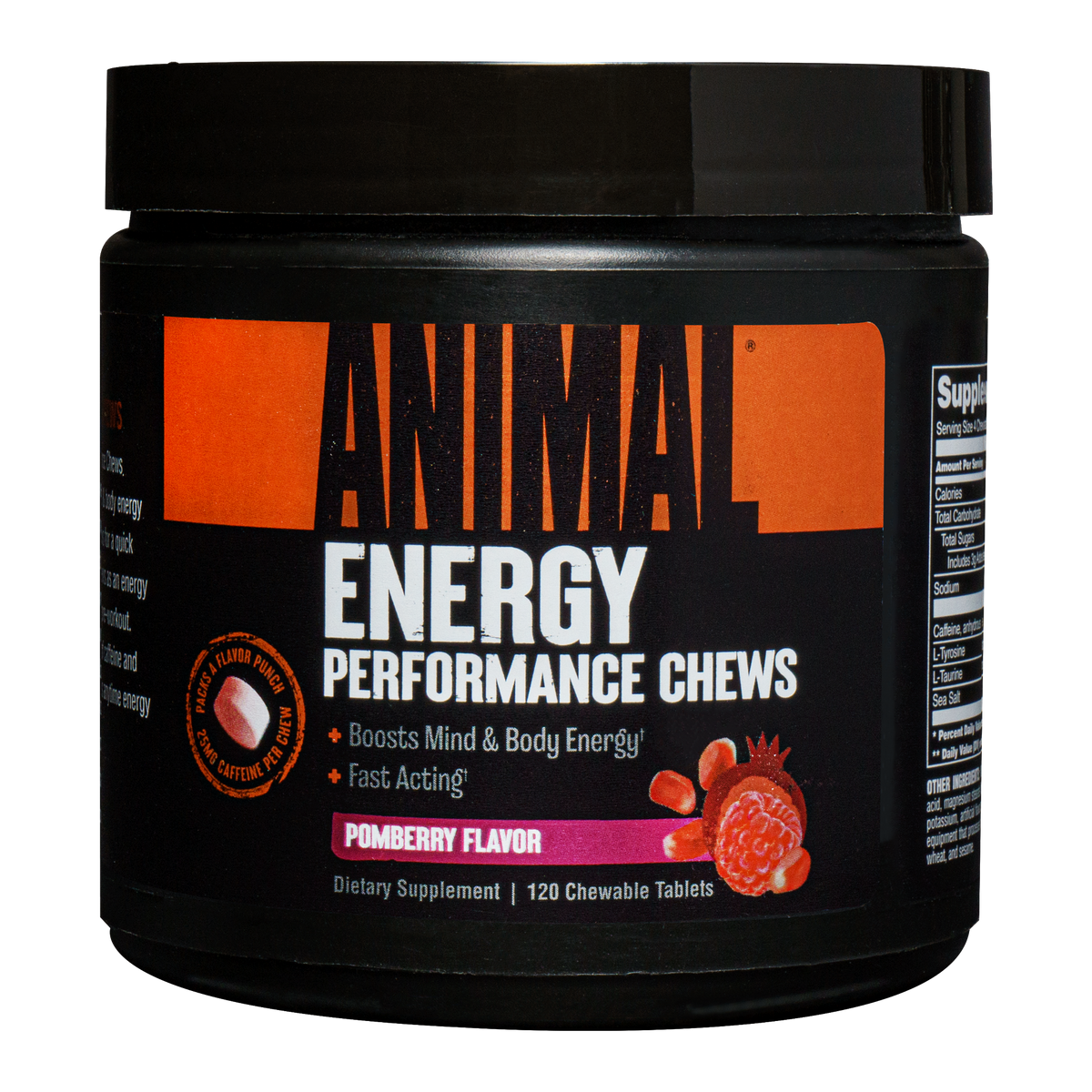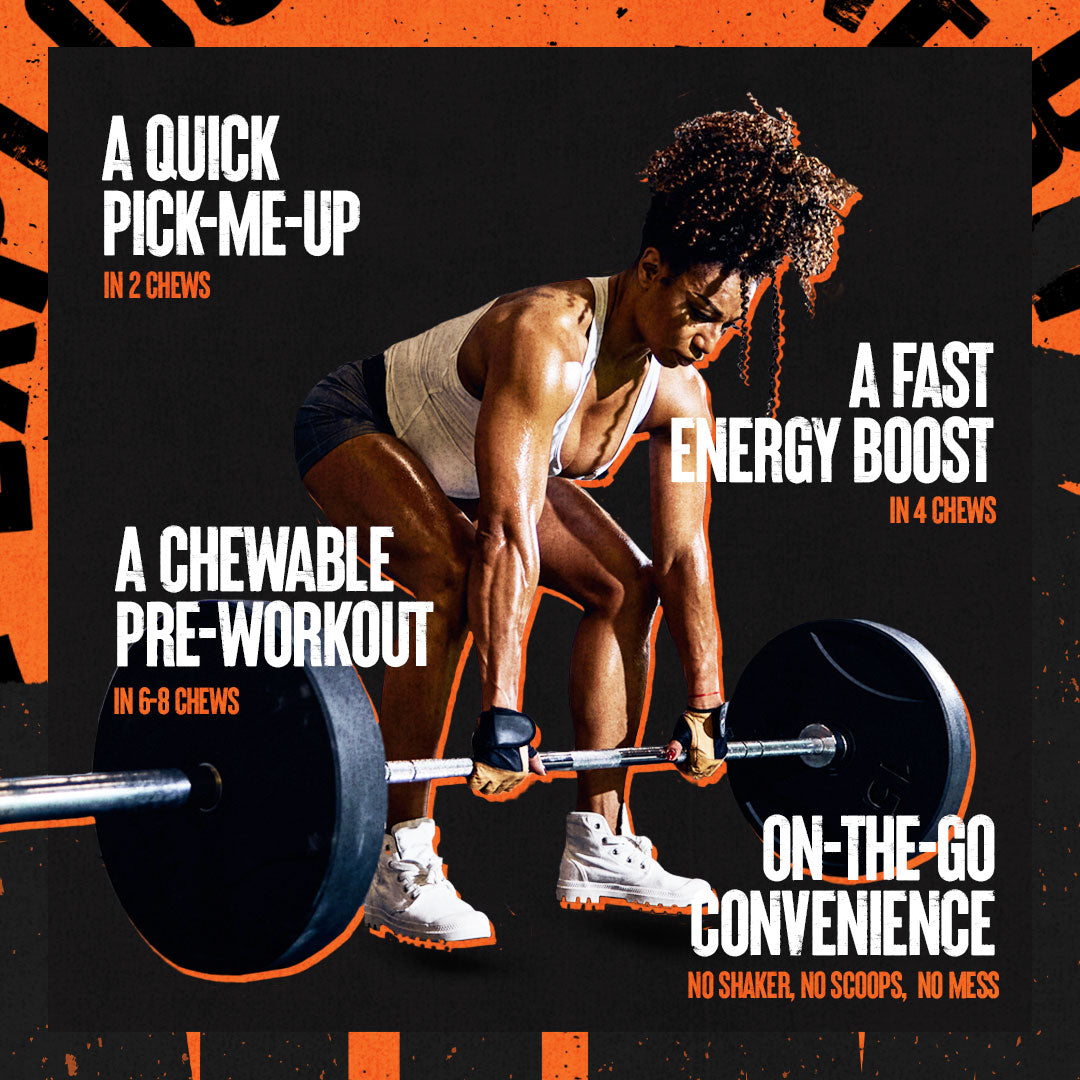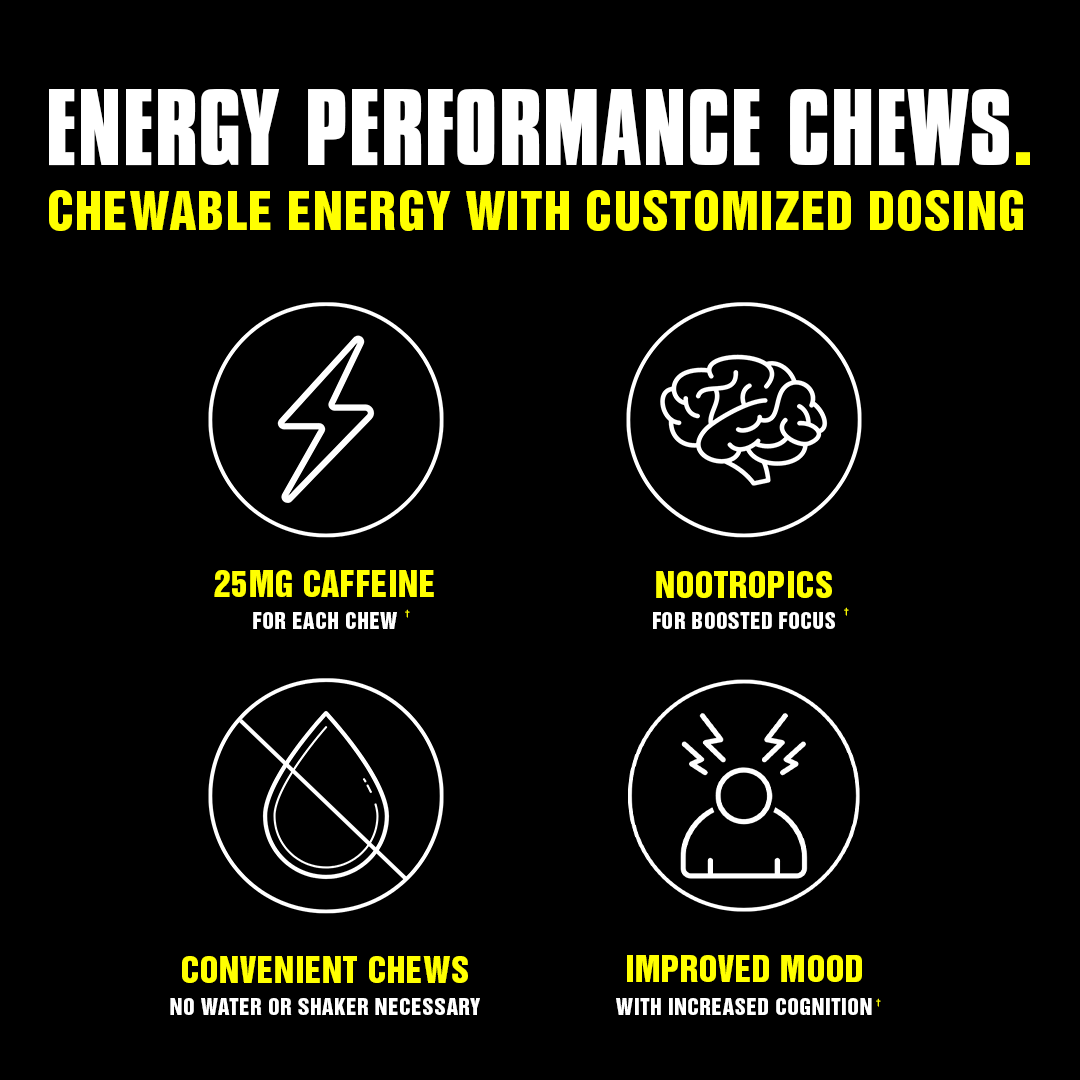 Animal Energy Chews
Unleash Your Power, On Demand
Description
Harness the power of anytime, anywhere energy with Animal Energy Chews. Our innovative chews offer a customizable energy boost - choose 2 chews for a gentle pick-me-up, 4 for a robust energy...
Read More
Convenient & Delicious: Forget the messy powders, the shaking, the mixing. Our chews are the epitome of grab-and-go convenience, and they taste great too!
Anytime Energy: Choose from 2 chews for a quick lift, 4 for an energy surge, or 6 for the ultimate power-up.
Superior Formula: Our expert formula combines energy, nootropics, and electrolytes for results that go beyond what caffeine alone can offer.
description
nutrition facts
how to use
Guarantee
Frequently asked questions
What makes Animal Energy Performance Chews different than other energy/pre-workout supplements?

Animal Energy Performance Chews takes energy and performance supplementation to the next level via its quick-acting and fast absorbing formula. Its specially concentrated, portable and easy-to-use format allows for quick and convenient energy consumption, without the need for water or stirring. What you get is a fast-acting and convenient energy boost that starts right in your mouth via the mucosal membrane to support your physical performance and mental focus during workouts, competitions, or daily activities. Think of it as your fast-acting, convenient and hassle-free anytime energy solution.
When should I take Animal Energy Performance Chews?

Animal Energy Performance Chews can be taken anytime you want an energy and focus boost, including as a morning wake-up, an afternoon pick-me-up or as a pre-workout boost.
How big is one Animal Energy Performance Chews tablet?

Each Animal Energy Performance Chews tablet is 5/16 inches in height and 5/8 inches in diameter.
How many chews are in one serving of Animal Energy Performance Chews?

Four chewable tablets make up one serving of Animal Energy Performance Chews.
Can I take more than 4 Animal Energy Performance Chews in a sitting?

Due to our unique format, we recommend that you first assess your tolerance to the Animal Energy Performance Chews, as they are fast-acting and quick absorbing. Four chews will provide you with 100mg of caffeine and fast-acting energy. Overall, we do not recommend you take more than 8 chews per day.
IRONCLAD QUALITY & GUARANTEE. ANIMAL IS DEDICATED TO BEING THE VERY BEST.
Made from premium ingredients sourced from around the world, our products are rigorously tested to meet the highest standards of quality.

That's why we stand behind every single pill, every powder, and every single Animal "pack" we make. If you bought a product directly from our website and it hasn't met your tough requirements for any reason, we offer a "no-questions-asked" 90-day 100% guarantee.
Made in the USA
Good manufacturing practice
UL Certified
Ironclad quality & guarantee
Made in the USA
Good manufacturing practice
UL Certified
Ironclad quality & guarantee