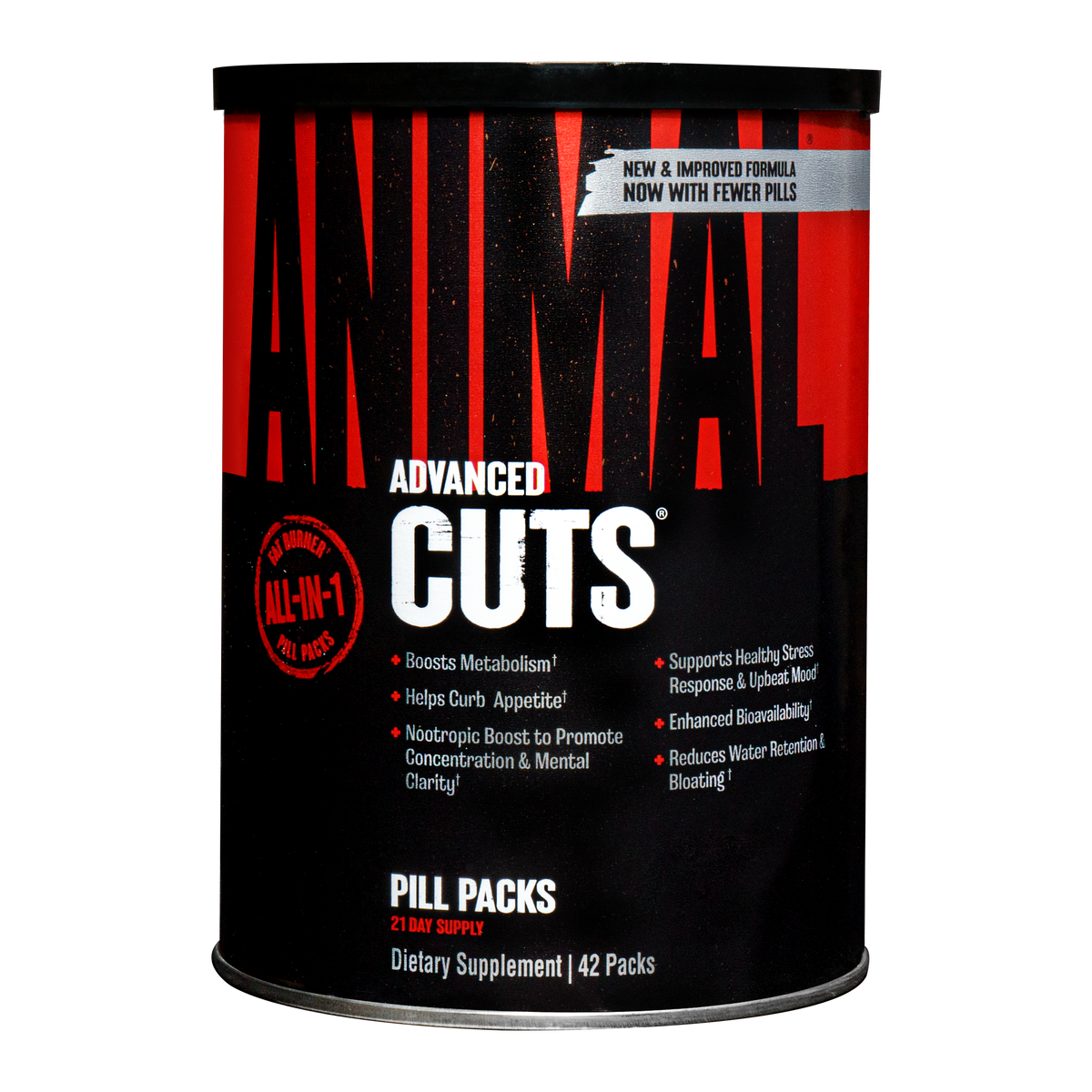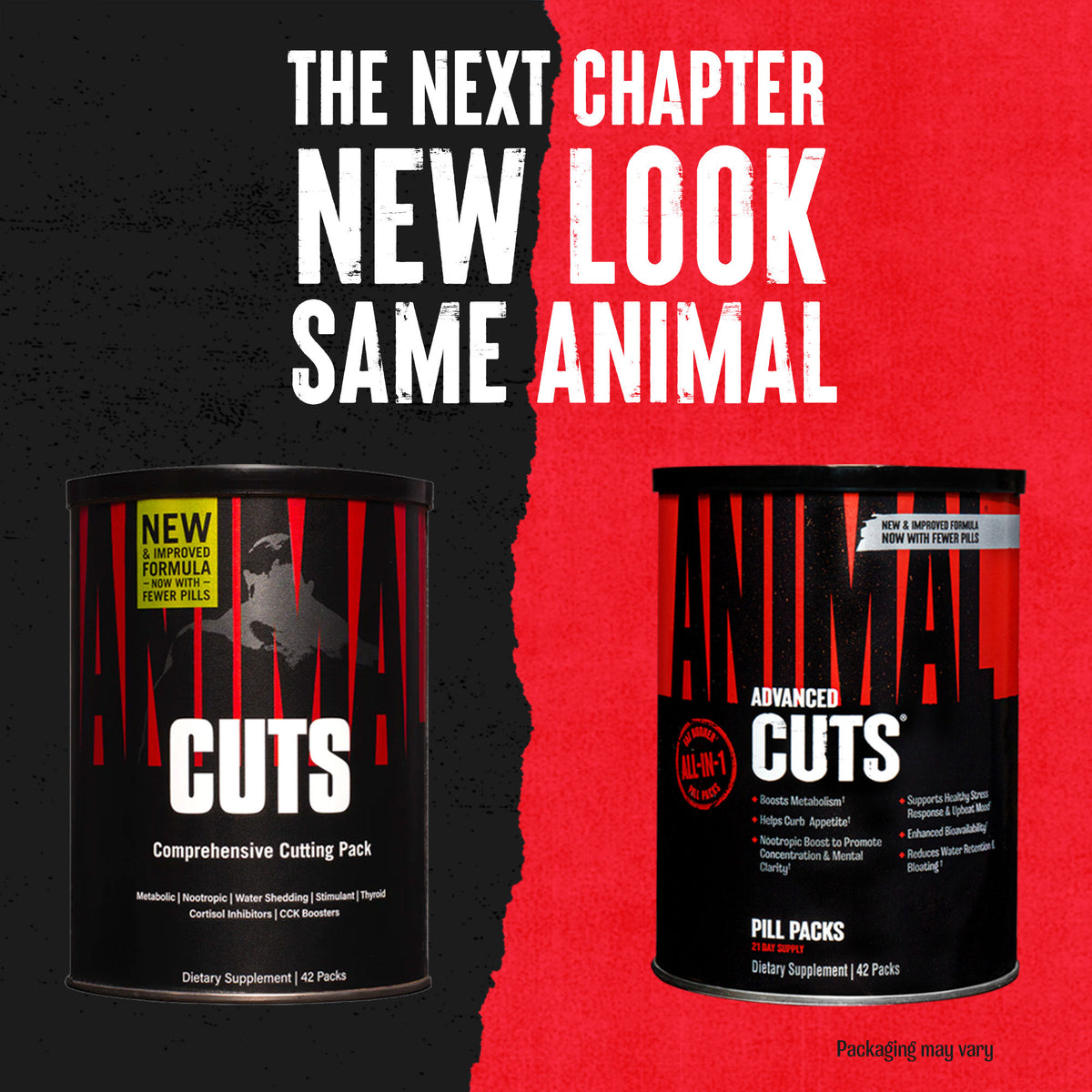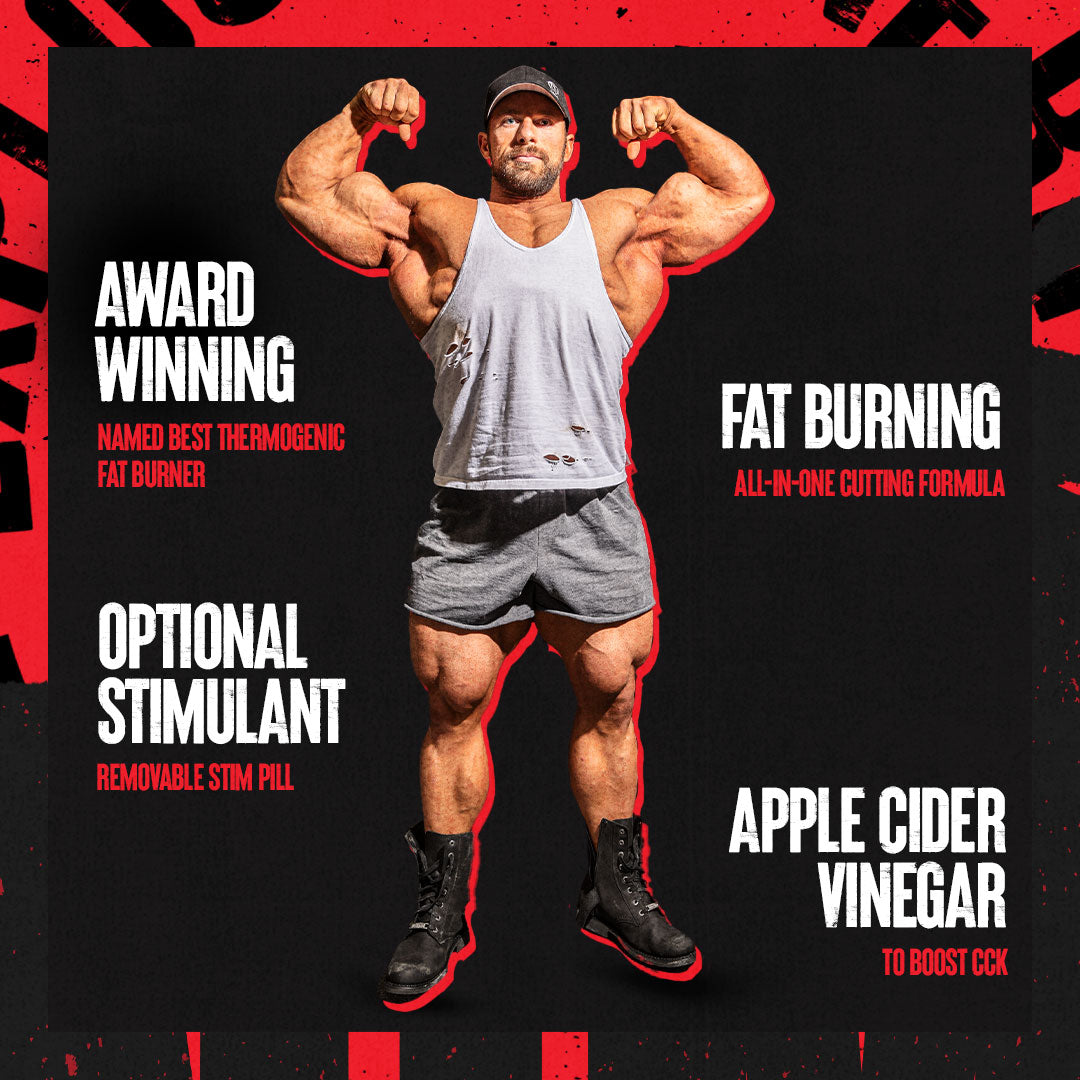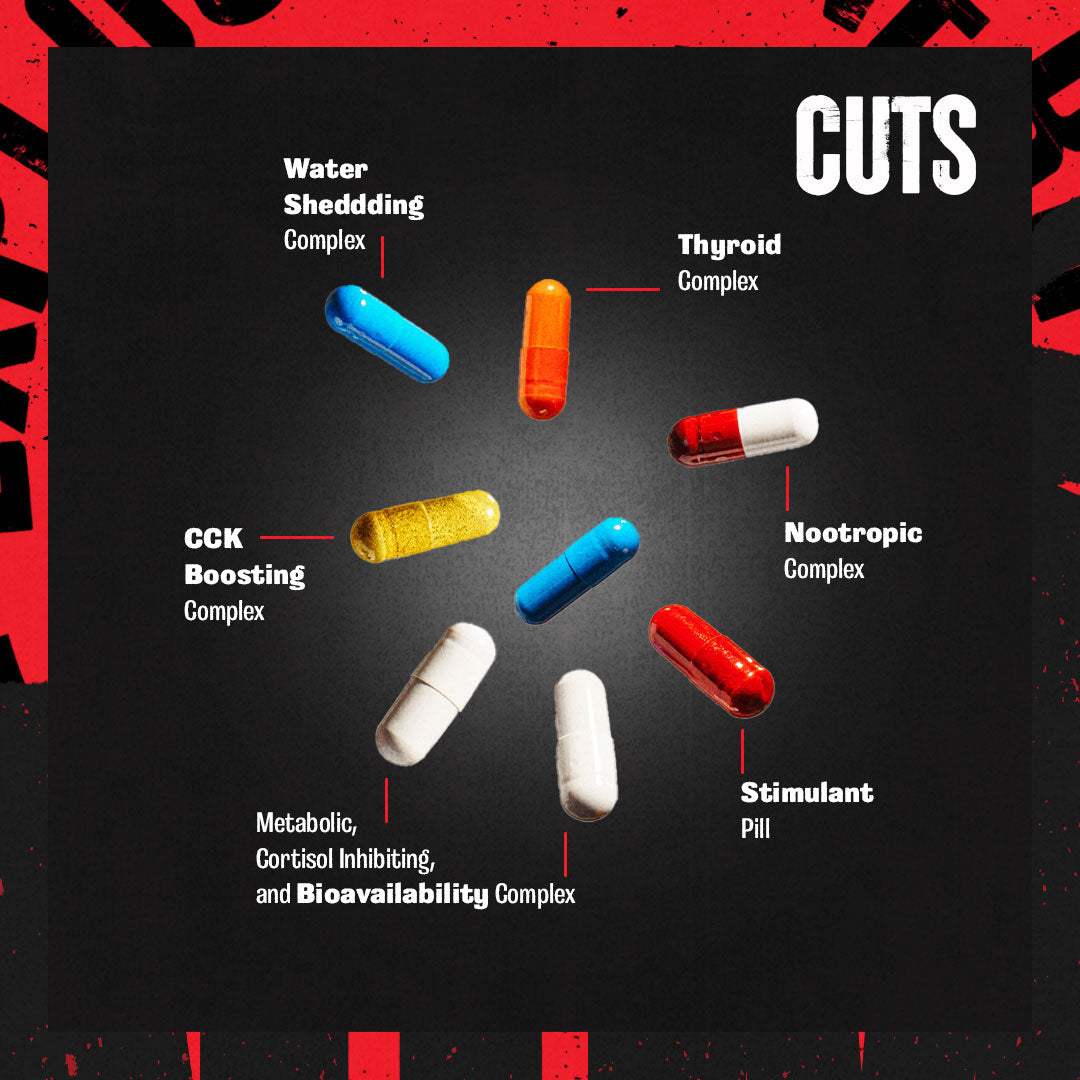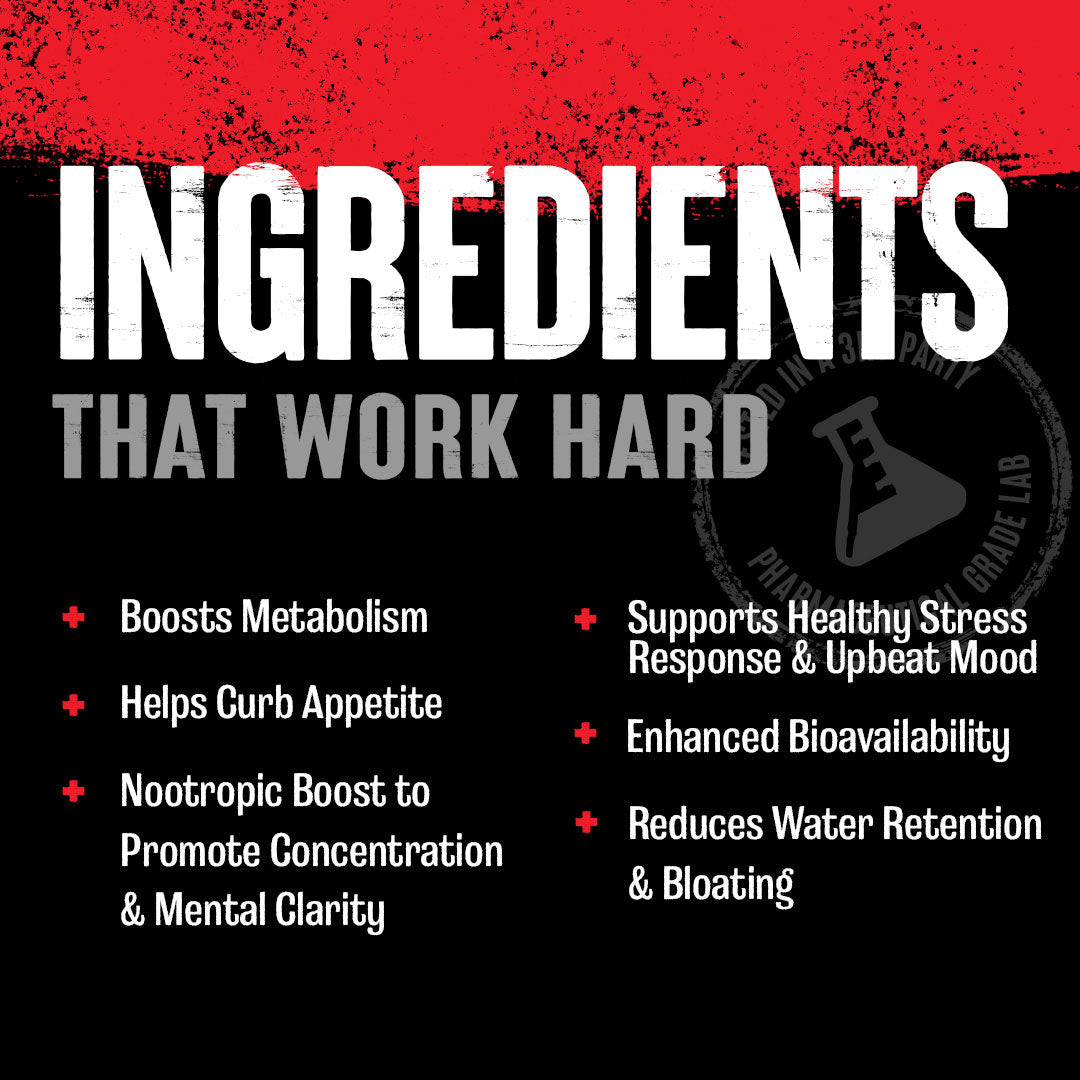 watch video
Animal Cuts
Award-Winning Thermogenic Fat Burner
Description
Our next level shredding supplement with 17 fat burning ingredients kick starts your metabolism, suppresses appetite, helps muscles look more defined, supports brain health, and helps with weight management. Animal Cuts is...
Read More
Comprehensive fat burning formula with Nootropics
Supports fat loss, appetite suppression, sustained energy, and enhanced focus
Available in convenient pill packs and great tasting powders
Also available in delicious tasting powders.
description
nutrition facts
how to use
Guarantee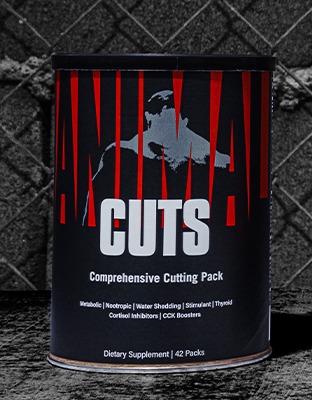 Includes 8 Research-Backed Complexes for Fat Loss and Cutting
Thermogenic and Metabolic Complexes
Burn excess fat thermogenically and boost metabolism naturally
Nootropic and Cortisol - Inhibiting Complexes
Brain boosters for better focus and increased alertness plus reduced stress with patented SerinAid
Diuretic and Thyroid Support and Complexes
Cut fat and shed excess water weight without losing pump or muscle size naturally
Appetite Suppressant and Bioavailability Complexes
Suppresses appetite with CCK boosters plus a delivery system including patented Bioperine
Frequently asked questions
If I'm sensitive or prefer not to consume caffeine which pill do I remove from Animal Cuts?

For any of our products that are pack form and contain stimulants, in order to remove the stimulants, just take out the red pill.
Can I take Animal Cuts with a Pre-workout?

If you are taking the Animal Cuts pill packs, you can remove the red pill (stimulant complex) and then you can proceed with taking your pre-workout. We don't recommend taking Cuts powder with preworkout since the caffeine can't be separated.
Which pill contains the water shedding complex?

The 2 solid blue pills.
Which pill contains the thyroid complex?

The thyroid complex in Animal Cuts is the orange pill.
Can women take Animal Cuts/Animal Cuts Powder?

Yes. Animal Cuts and Animal Cuts Powder are formulated to be used by men and women. Both products are female-friendly.
Can I take Animal Cuts or Animal Cuts Powder during fasted cardio?

Animal Cuts and Animal Cuts Powder were formulated to be metabolic powerhouses without calories, and can fit nicely into a fasted cardio protocol to assist with your cutting goals. In fact, for optimal loss, we recommend you take either one on an empty stomach 30 minutes before you start your cardio session.
Can I take Animal Cuts with Animal Stak?

Absolutely. Animal Cuts and Animal Stak are a part of a stack listed on our website here. These two products can help you add lean mass and strip unwanted body fat. Take 1 pack of Animal Cuts upon waking prior to your fasted cardio. Approximately 30 minutes prior to training (make sure this application is 4-6 hours after your first), take another pack of Animal Cuts with 1 pack of Animal Stak. On off days from resistance training, take Animal Stak 30 minutes before bedtime.
Can I take a mass gainer with Animal Cuts/Animal Cuts Powder?

Animal Cuts and Animal Cuts Powder are products meant to aid in weight loss only, therefore, we do not recommend taking a gainer while using them. This could be counterproductive. Gaining requires a diet with a caloric surplus, while cutting requires one with a caloric deficit. We suggest either focusing on a bulking phase or a cutting phase.
IRONCLAD QUALITY & GUARANTEE. ANIMAL IS DEDICATED TO BEING THE VERY BEST.
Made from premium ingredients sourced from around the world, our products are rigorously tested to meet the highest standards of quality.

That's why we stand behind every single pill, every powder, and every single Animal "pack" we make. If you bought a product directly from our website and it hasn't met your tough requirements for any reason, we offer a "no-questions-asked" 90-day 100% guarantee.
Made in the USA
Good manufacturing practice
UL Certified
Ironclad quality & guarantee
Made in the USA
Good manufacturing practice
UL Certified
Ironclad quality & guarantee